Our History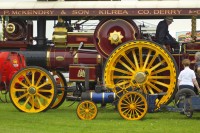 The Traction Engine Club of Ulster is one of the longest established vintage clubs in Northern Ireland organising the first gathering of Traction Engines, Steamrollers and Steam Lorries at the Castle Grounds in Antrim.

Harold Condell must be credited as the man who started it off. Arriving from Stradbally, Eire, where a Society had already been formed, Harold brought his Ransome threshing set with him to his farm at Ballywindland, near Ballymoney.

In 1966 Harold put on an old time threshing demonstration at his farm. The event had been give previous publicity over the radio, arousing tremendous interest. Present were steam enthusiasts, photographers, press men and perhaps more important engine owners. Across the province were a small band of men who had not been prepared to dispatch with their faithful work-horses to the "knackers yard".

That little demo had brought to all present a deep sense of nostalgia. As one enthusiast said : "I never thought I would love to see a steam engine threshing again." It was indeed sheer magic to all those engine lovers to sample again the atmosphere of an old time threshing scene, to scent again the hot oil and the billowing reek.

The next year following another successful demonstration at Ballywindland, the Society was formed in the Midland Hotel, Belfast on a Saturday evening in September 1967. There were twelve members present on that occasion.

In August 1968 our first rally was held in Antrim Showgrounds. Seven local engines paraded on that occasion plus visitors from England and Eire. It is perhaps noteworthy that the compound Ransome that started it all, now owned by Hugh Kennedy of Kilrea still graces our Rally field to this day.

The first rally was a great success. However it was agreed that in the event of the rally activities expanding, the Antrim Showgrounds would be too restricted. Lord O'Neil graciously consented to host the subsequent rallies on his spacious estate at Randalstown, first at Dunmore Park and from then at Shane's Castle.

As the club membership increased , it brought together young men with a diversity of interests. Not all aspired to own traction engines, nor indeed could they afford to do so. Instead they concentrated on scouring the country on the quest for old abandoned agricultural machinery, such as vintage tractors, stationary engines and ancillary implements which had disappeared from the farming scene. After months - sometimes years - of hard graft, these determined enthusiasts lovingly restored, to their pristine glory, those cherished artifacts of our agricultural heritage.

To facilitate this ever increasing band of enthusiasts, a separate committee was set up within the club and the rally continued to grow. Unfortunately the increasing popularity of the rally brought further problems as it outgrew the infrastructure of the Shane's Castle estate and the Club were forced to seek a new venue.

After negotiations with Ballymena Borough Council the rally moved again to Ballymena Showgrounds which although not as scenic as Shane's Castle the venue offered greater areas of hard standing, car parking, improved site access and the facilities of the Showgrounds.

From 2013 the site moved to Ballee Playing Fields, Ballymena. This site is compact and level and has proved to be a great venue for rallies.